'JUST' WALK is a concept of stepping out and walking to support vulnerable women and at-risk children, raising awareness and funds to support projects that are making a tangible difference in their lives.
Anyone can organise a 'JUST' WALK (or a 'JUST' any other activity too) and make a difference. E: [email protected] | [email protected] .
Thank you to all who participated in, sponsored and donated to our 2022 'Walk 4 Dignity'. Together we raised $9,000, supporting the ongoing work in 5 villages for an entire year.
What a great effort!
Our prize winners are:
Person who raised the most; Pamper Pack: Kas
Most supportive on the tramp; Coffee Beans & Chocolate:

Kerry

Absolute legend; PaperPlus voucher: Ron
Thanks one and all for your help in making this such a great event.
We are already planning our 2023 walk, most likely at The Pinnacles. Date TBC. For expressions of interest E: [email protected].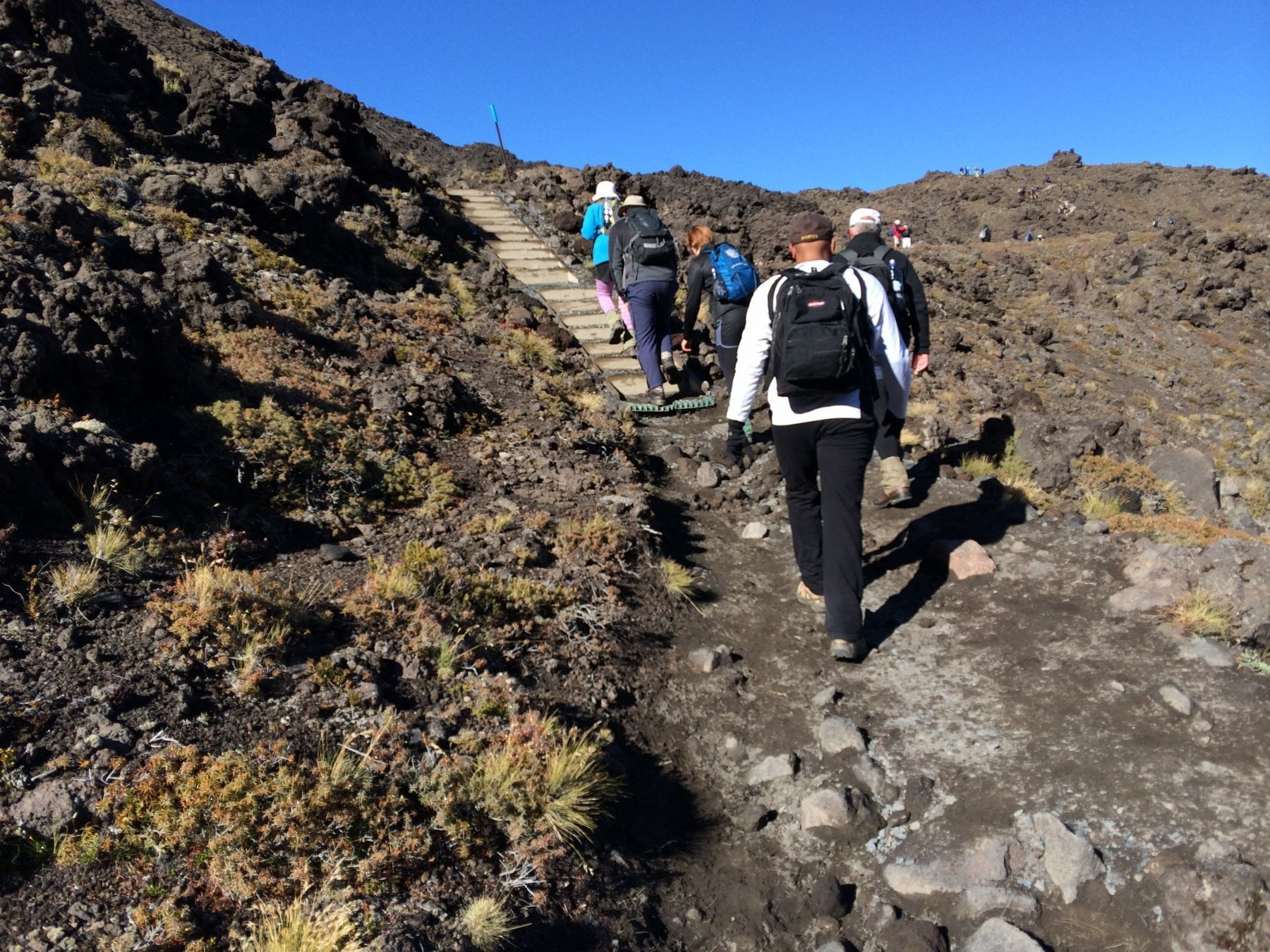 Walk for Dignity: December 3, 2022
Join us to climb the Tongariro Alpine Crossing to raise awareness, funds and support for women and children who are exploited, enslaved and oppressed in parts of southern Asia.
New Date: Saturday, 3rd December, starting at 7.30 am.
Registration Cost:
Single $50

Couple $80
Single inclusive of Bed & Breakfast @ Ruapehu lodge $90
Couple inclusive of Bed & Breakfast @ Ruapehu Lodge $160
All registrations include transport from Ruapehu Lodge carpark to the start and from the end back to the Lodge, and a snack pack.
Participants are required to raise a minimum of $200 to support vulnerable girls and marginalised women.
The crossing traverses the volcanic terrain of the multi-cratered active volcano Mt Tongariro and is one of the best 1-day hikes in the world.
The walk requires a moderate level of fitness and is 19.4km.
Join us for the climb, or sponsor one of our wonderful hikers, and help restore hope to marginalised women and at-risk girls.
If poor weather prevents the crossing, participants will do the Tama Lakes walk instead. 
Register: www.trybooking.co.nz/KKI
Sponsor a climber: chuffed.org/project/tongariro-alpine-crossing
For more information: [email protected]
This is a significant climb and a reasonable level of fitness is required.
It may not be suitable for children (depending on fitness).
Participants will benefit from training before the climb.
If you are unable to join the climb, you can participate by praying, sponsoring a climber, or following the climb on Facebook. 
Do I have to stay at Ruapehu Lodge?
No. Meet at Ruapehu Lodge by 7am to be shuttled to the start.
Where is Ruapehu Lodge?
Rehua Place, Whakapapa Village, is 0.8km above the Chateau. A road closure barrier is situated just before the road turns sharply right and up the hill. Rehua Place is immediately before the closure barrier, on the left-hand side. You will see two groups of lodges about 500m past the turnoff. Continue to the last lodge on the left, standing slightly back from the road. A Forest & Bird sign is outside. Website here

.

What time do we start?
Our walk starts at 7:30am, we will leave Ruapehu Lodge at 7am.
How far is the walk?
The walk is 19.4km.
What level of fitness is required?
The walk requires a moderate level of fitness. There is a reasonable amount of climbing, some quite steep.
If I make my own way to the start, how do I get back to the start?
We will provide transport from the end of the climb back to Ruapehu Lodge. Please advise us if you won't be starting with us.
Can I stay at the Lodge on the Saturday night too?
Yes, the cost is $40pp, please provide your own breakfast.
Do I need to bring bedding?
Yes.  Ruapehu Lodge is dorm style accommodation. Bring a sheet, sleeping bag, pillowcase and towel.
What should I wear for the walk?
Wear layers to adapt to warmer or cooler weather. Check your registration confirmation email for a complete gear list.
What food should I bring?
Bring high density snack and drinking water.
What else should I bring?
Tissues, toilet paper, sunscreen, hat, and gloves.
What will the weather be like?
Alpine weather: The track passes through an alpine environment with changeable weather. It is common to experience very cold temperatures, strong wind, heavy rainfall and poor visibility in summer – snow can fall at any time of year.
What happens if the weather is bad?
We have several back up plans:

If we are unable to do the Tongariro Alpine Crossing we will do the Tama Lakes Walk
If we can't do either, we will move the walk to December 3rd.
If neither weekend works, the climb will move to March 4th.
Will there be someone doing first aid on the walk?
Yes, we have a first aid officer joining us on the walk.
Do I have to raise funds?
Yes, all participants are required to raise a minimum of $200.
Are donations tax-deductible?
All donations to DFN through Chuffed or otherwise, are tax-deductible. Optional donations to Chuffed are not tax-deductible.
Tax receipts are issued by GDG (Global Development Group) at the end of the financial year.
Where do the funds go?
The funds support abused women and at-risk girls, providing healthcare, education, advocacy, and economic empowerment.
What is the cancellation policy?
If you are unable to make the event two weeks before the event a full refund less $25 administration fee will be refunded or you can transfer your registration to the walk in 2023 (this may be the Tongariro Alpine Crossing, but it may be another walk).
Within two weeks of the event, we are unable to offer a refund as we will have incurred costs ourselves.

For information about the crossing, check the Department of Conservation website.
If you weren't already excited, we have some great prizes for our Tongariro Alpine Crossing Participants:
Allpress Espresso coffee beans 250g, Bennetts Flat White Chocolate 60g, (Carley's Kitchen, Cambridge).

$25 Paper Plus gift card (Cambridge Paper Plus, can be used throughout NZ).
Beautiful Rose Candle and dresser-liner paper; Scented soy candle; Orange blossom bath fizzers; Manuka Honey hand & body lotion; Clarin face creams; two lux scarves.
(Comins Pharmacy, Cambridge).
We still have 2 spots left before we close registrations.