Join Our 2022 Youth CHALlenge! 'Education Changes lives'
Annual International Literacy Day (September 8) celebrations have taken place globally since 1967, to emphasise the importance of literacy as a matter of dignity and human rights. Despite progress, at least 773 million young people and adults lacking basic literacy skills today.
Teens across the country are invited to join our 2022 Youth Challenge in term 3, enabling vulnerable girls to receive quality education, break cyclical poverty, and rediscover the joy of dreaming big dreams.
A girl's education has a huge impact on all of society. Our schools enable vulnerable girls to receive a quality English medium education. Over 6,000 girls in our schools are currently unsponsored.
To celebrate International Literacy Day, we invite students, classes and youth groups to organise their own events to raise funds for unsponsored girls.
$33 supports one girl for one month; every $396 educates a girl for an entire year, including nutrition, health care, sports and the arts.
"One book, one pen, one child, and one teacher can change the world."
~Malala Yousafzi
Contact us to receive our Youth Challenge Toolkit for ideas, resources and tips to run a successful event.
Follow DFN on Facebook where we will be profiling the needs, posting stories, and sharing about the creative ways people are partnering with us this year!
Sponsor a specific girl from our website ($40 per month), or help raise funds for unsponsored girls ($33 per month):
Run a fundraiser using Facebook Fundraisers

Organise a fun run or marathon

Pledge your birthday – ask people to donate instead of a gift

Dye your hair – highest bidder decides the colour!

Host an Art Exhibition or Market

Hold a fashion show or ladies' night

Host a movie night – highest bidder decides the movie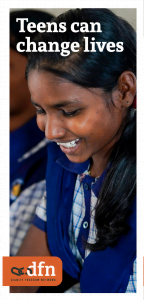 These girls have the odds stacked against them from birth, but an education can transform their future. Access to education does more than give a girl the chance to learn and grow–it unlocks the door to freedom and provides an opportunity to pursue their dreams.